While snow was falling outside on the day of the Spring Equinox year 5 and 6 took our assembly in a warm, snug hall.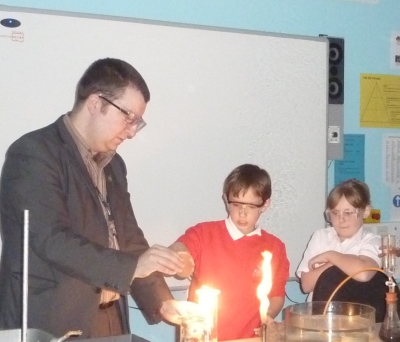 Our intrepid news reporters first told us about a science visit to Allerton High where they made fire from water! This was done by splitting water into hydrogen and oxygen which can be used to power rockets.
A report on writing and acting about different genres followed including adventure and fantasy genres
A news item followed on a year 5 fund raising movie night showing "Goodnight Mr Tom". A review of a play about the story was then read giving a rating of 9/10 for the play.
Year 6 have been fund raising by running a romantic Valentines day disco selling food, candy, drink and raffle tickets.
Next we had some poems about Daedalus and Icarus brilliantly read by their authors.
For some strange reason some pupils kept walking across the stage. It turns out that they were acting out the walk to the North East Leeds CLC at Allerton Grange where they made some podcasts, some of which are on the class blog.
In music year 5 and 6 have been working on writing music about the planets and we were given a performances of two versions of Life on Mars.
Professor Adam showed us how in maths they have been looking at how to times and divide fractions. This was a bit mind stretching!
We closed with a prayer read by Iman.